We are passionate about the beauty of the Ozarks and enjoy sharing our passion with our guests.  Our park sits on an operational cattle ranch where we raise grass-fed, grass-finished Red Devon Cattle.  Only a small portion of our ranch is actually suitable for raising cattle so we decided to start offering off-road tours.  Our tours traverse most of our 1100 acres and a variety of different terrains.  There are deer, turkey, and other wildlife that can be seen on our tour if your watching for them.  We enjoy what we do and it shows, our trail rides are a little more extreme than most offered in the area but we like to have fun and share the excitement of our trails with our guests.  We're a small family operation, and are always looking to improve things and make the experience better for our guests.  We welcome reviews and feedback of all kinds and appreciate having the opportunity to share the beauty of the Ozarks with our guests.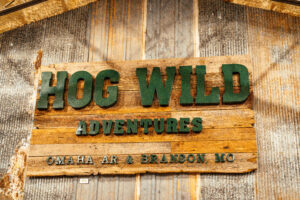 Our Guides
- Friendly, Knowledgeable and Experienced
Kelby Edmondson
Lead Tour Guide
Kelby is an experienced trail guide that enjoys being out on the trails. Friendly and considerate, our guests never fail to mention how much they enjoyed having him as their guide!
Clay Miller
Owner
Clay and his family own and operate Hog Wild Adventures
Ty Robertson
Owner
Ty manages the Ozark Red Devon ranch and his knowledge of the land makes him an excellent guide.